Dubai Indoor Skiing Park | Every Thing You Need To Know. You probably never in your wildest dreams thought you'd be skiing in the middle of the Arabian Desert. Did you? One of the largest indoor ski resorts in the world may be found in the nation that is home. To some of the world's most impressive and towering man-made structures. Inside of the gigantic Mall of the Emirates is where you'll find the family-friendly entertainment complex known as Ski Dubai. It spans a total area of 22,500 square metres (or 242,187 square feet). When you're close to the ski slopes, you can take advantage of a variety of activities. Such as the Snow Cinema, the attractions at the Snow Park. And even the opportunity to get up up and personal with snow penguins.
Ski Dubai offers indoor skiing: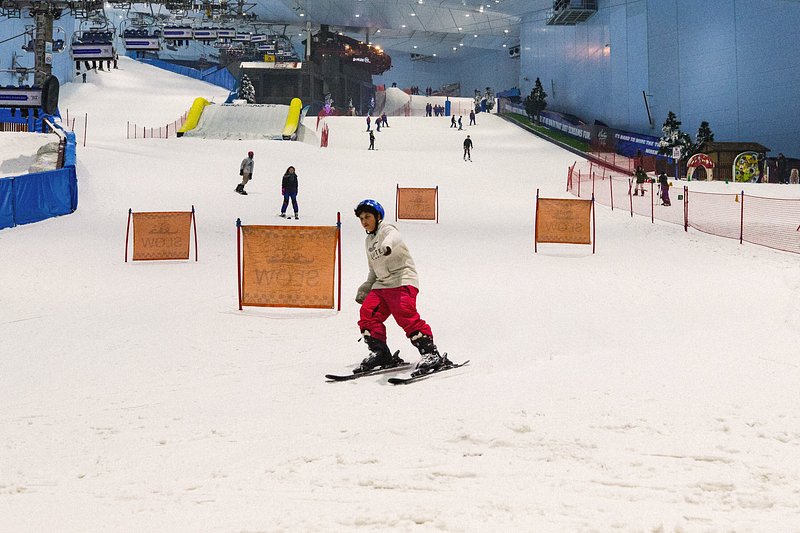 Ski Dubai first opened its doors in 2005 and has an outstanding mountain. That is 85 metres (280 feet) tall with five slopes that range in terms of how tough. They are and how steep they are, all of which are covered in roughly one metre (three feet) of snow. Even though it is obviously a man-made scene, the snow that is seen here is very much the genuine thing. The temperature is maintained at a steady -4 degrees Celsius (25 degrees Fahrenheit). Which is just right for the Gentoo and King penguins who make their home at Ski Dubai.
Dubai Ski Prices:
Ski Dubai gives you the option to choose from a variety of various packages to accommodate your financial constraints. A day pass will run you just under AED340. while a permit good for three hours would set. You back around AED260 (USD71) (USD93). The morning hike is the least priced choice at AED100 (USD27), but it does not include the opportunity to ski.
You have the option of spending some time on the slopes or going to other attractions. With the Snow Daycation Pass, which costs AED285 (USD78), and the Snow Premium Pass, which costs AED490 (USD133). Both passes give you access to the rides at the Snow Park (for example, a ski or snowboard beginner lesson).
Activities for Apres Ski in Dubai:
After having a good time on the slopes. You could make the decision to relax at one of the various attractions that are located inside the complex.
Ski Dubai Snow Cinema offers movie screenings:
Even if you are an experienced skier. It is likely that you do not make a habit of going to a movie theatre that is decorated. In a winter theme every time you travel to the mountains. On the other hand, despite the fact that you are in a unique setting. You can end yourself watching the same movies that are playing everywhere else at Ski Dubai.
On the seats are offered wireless headphones, blankets, and heaters for your comfort. In addition, if you want a more. Memorable experience, you have the option of reserving a seat in the VIP chalet. There, you will be served a complimentary meal consisting of two courses while you watch the movie.
Penguins marching: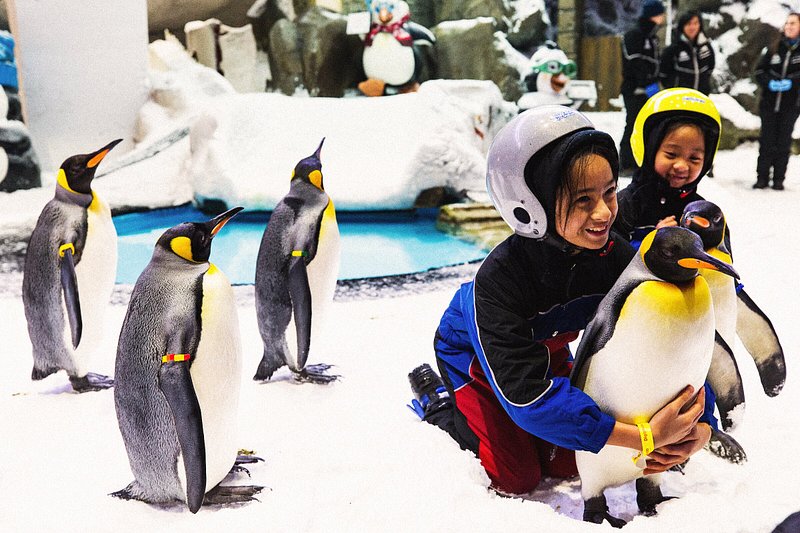 The greatest part is that you don't have to pay anything to see the Ski Dubai penguin parade. Which takes place every day from 2:00 to 4:00 in the afternoon. If you'd want to interact with these lovable birds in a more personal setting. You may do so during a penguin encounter that lasts for forty minutes. It will appeal to both young people and older people equally.
Warm up with a nice drink and some comfort food:
At Ski Dubai, you have a number of options for refuelling, ranging from appetisers to the resort's world-famous hot chocolate. The expansive menu at North 28, which features nice views of the Snow Park and includes both breakfast dishes and full meals, complements the restaurant's multi-award-winning ambiance. You have the option of dining within the park at the Snow Bullet Café, the Ice Café, or the Avalanche Café; all three of these establishments provide commanding views of the primary slope.
In spite of the fact that it is located outside of Ski Dubai, Après is a pub-style diner that features enormous windows that look out into the Snow Park. In addition to its primary focus on steak, the restaurant also provides meatless options for diners.
Where to Find Ski Resorts in Dubai:
If you are arriving at the mall via public transportation, simply exit at the Mall of Emirates station on the Red Line of the Dubai Metro, and then head south via the approved skyway to reach the shopping centre. Alternately, the bus stops for routes 81, 84, and 93 are located just outside the mall's front door.
The Mall of the Emirates is located along Sheikh Zayed Road, which is sometimes referred to as E 11, and is the primary thoroughfare in both Dubai and the United Arab Emirates. As a result, it is quite easy to get there by taxi or vehicle. On weekends, parking is free for all visitors, but during the week, free parking is reserved only for Ski Dubai customers.
Preparing for Skiing in Dubai: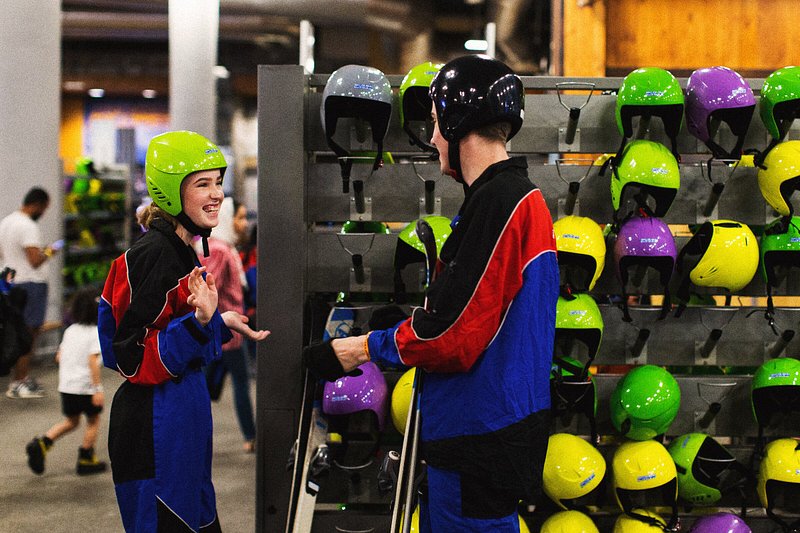 Because it is so chilly indoors, you will need ski wear that is both comfortable and safe. You have the option to rent a ski suit and a locker with any and all ticket packages. In more comprehensive packages, such as Snow Premium, items like as boots, socks for single use, and equipment are all included.
You may complete your ski outfit at Snow Pro, Ski Dubai's outlet store, by purchasing or renting the remaining pieces of your gear, ranging from gloves to skis. Both equipment from well-known brands and souvenirs that may be taken with you are sold in this location. But there's no need to worry about that since if you bring your own equipment to Ski Dubai, you'll be able to use it.
Requirements for Age and Skill: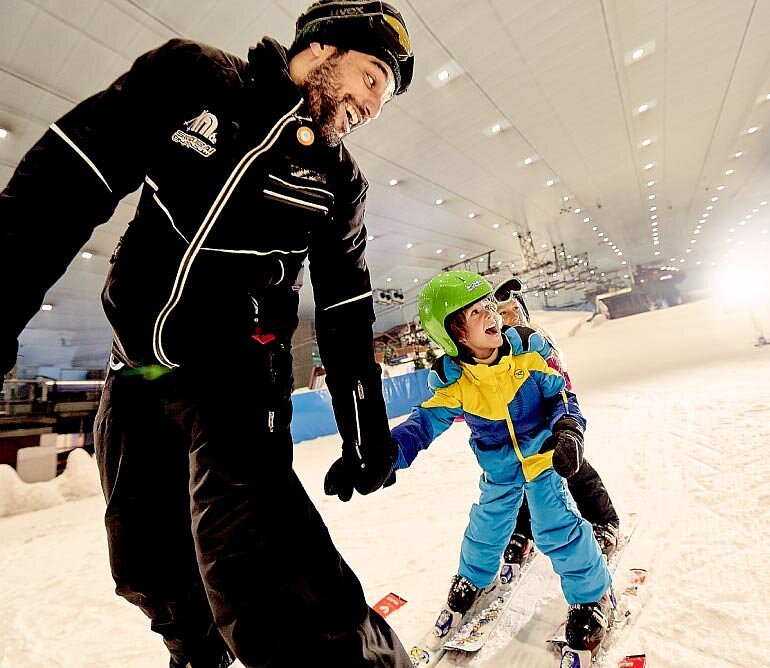 Ski Dubai requires guests of any age to demonstrate that they are able to safely stop, retain control of their pace, make turns, and operate the chairlifts in order to get entry to the indoor ski slope. In addition, for reasons of both health and safety, children must be at least three years old in order to enter. Children as young as two may have a good time at the snow park as their parents are racing down the slopes. Everyone less than 14 years old is required to have an adult or guardian who is at least 16 years old with them at all times.
However, the Ski School at Ski Dubai has over 20 instructors who are ready to assist you, regardless of whether you have never skied before or wish to improve your technique. Lessons in skiing and snowboarding vary from total beginners to advanced levels, and pupils are categorised according to their ages as follows: ages 3-6, 7-13, and 14 and older. There is also the possibility of receiving tuition in a more personal setting.
Skiing and Snowboarding Opportunities Beyond the Snow in Dubai:
If you don't want to feel like you've travelled all the way to Dubai to face the subzero temperatures, there are lots of exciting activities that don't require you to do much more than put on your swimsuit or gym clothing in order to participate. These activities nevertheless demand good balance.
Skim boarding:
A number of travel firms in Dubai provide day tours that include a variety of enjoyable activities in the region's golden sand dunes. This is possible because Dubai is surrounded by desert. On the undulating dunes of the Arabian Desert, you may sandboard at speeds of up to 40 miles per hour. Exhilarating desert safari adventures, which may include sandboarding, are offered by a large number of travel operators.
A Jet Ski:
If you are searching for a sport that takes place on the water, the Dubai Marina offers jet ski tours that last anywhere from half an hour to two hours.
Simulator for skiing:
One more alternative for skiing or snowboarding is available at Infinite Ski, and it's the one-of-a-kind Maxxtracks hill. Their ski simulator, which is comprised of a moving belt, raises the bar for what is possible to achieve in terms of indoor skiing in Dubai. Skiers with little or no experience, or those who simply want to brush up on their skills, should not do it.
For More Related Info Visit HOME: